Alejandro Romero-Reche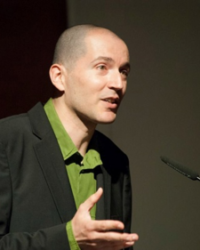 Alejandro Romero-Reche is a lecturer in Sociology at the University of Granada, Spain. He teaches Contemporary Social Theory, Philosophy of the Social Sciences, and Electoral Analysis. He has published several articles and book chapters on the sociologies of knowledge, humor, and leisure. As a comic writer, he won the Injuve Award for a short story that was later developed as the graphic novel La canción de los gusanos [Song of the Worms], and his work has been featured in most of the satirical magazines in Spain (El Jueves, El Churro Ilustrado, Mister K, etc.). His current research interests include humor and satire in conspiracy theories, the authoritarian uses of humor, and new approaches to conspiratorial thought from the sociology of knowledge. In 2017, he taught a course on "Political Humor in Contemporary Europe" at Sciences Po Lyon, France.
Some of his publications include:
El Humor en la Sociología Posmoderna: una Perspectiva desde la Sociología del Conocimiento. Fundamentos, 2010.
La canción de los gusanos. Norma Editorial, 2010.
« back to all members